HMS GANGES ASSOCIATION
Queensland Division
Newsletter No 60
September – October 2017
 Welcome aboard everyone,
Unfortunately I start this newsletter with sad news of the passing of ex Ganges man Gerry Hughes, I have been advised by his partner that Gerry passed away earlier this year. RIP Shipmate
Also apologies for the lateness of this newsletter, I have now moved to Burrum Heads and purchased a new computer as my old one was KIA on the way up here.
MEMBERSHIP RENEWAL
For those wishing to renew their membership the following details were provided by the Treasurer
Account is H.M.S.Ganges Association Queensland.
Westpac Capalaba  034080 380466.
Members $20.00.    Associate members $5.
Last newsletter Ship Quiz.
Only correct answer was Geoff Dann of Cairns Qld. As Geoff correctly emailed me it was HMS NELSON departing Portland.
Due to the lack of support I won't be including this segment in future newsletters. Thanks to all those who participated. Instead I will highlight one of our amazing members.
This month: Richard Richardson
Richard was born in Hastings Sussex on the 21st July 1938, and lived throughout the war and right up to when I joined the navy in a little village called Ringmer, about 8 miles East of Brighton.
He joined HMS Ganges on the 13th October 1953 and served for 25 years, retiring on the 21st July 1978. I was a "from here to the right" communication rating in that at one stage in the annexe the whole recruitment was fallen in and informed that they required more volunteers for communications. Several people volunteered but not enough so they decided to detail some of us off.  An officer went along and said "3, 6, 9, 12 from here to the right communicators'. I wanted to be a gunner!!!
I am glad that it worked out like that though as it was probably the best thing that ever happened to me. As a visual signalman I was always on the bridge and always knew what was going on.  I felt sorry for the stokers stuck down below and always in the dark and I tried to keep them in the picture as far as legally possible.  Of course a lot of the stuff that I dealt with was secret and definitely not allowed to be released to anybody.
My sea going started with an 18 month commission in HMS Newfoundland and was probably the best commission that a young boy could possibly have. We left Portsmouth and did our work up in the Med. based on Malta. Then through the Suez canal and on to the Far East, visiting Singapore, Australia, Japan, Korea, Subic Bay, Hong Kong and several places that I can't remember now. At one stage I was loaned to HMS Comus when some of her people were on advancement courses.  When it came time to come back home we were the first cruiser to recommission by air, 14 flights out and 14 flights back.  I was on flight 10 and we crashed at Karachi.  The pilot couldn't get the wheels down and so we left a lot of the aircraft strewn along the runway. It was a Handley Page Hermes belonging to Britavia.
I also spent a couple of years at Whitehall wireless station and nearly a year with 43 CDO Royal Marines. Our watch had just gone on for the all night on at Whitehall Wireless and the chief of the watch came round just to make sure that everyone was there and suitably briefed during the takeover.
When he got to my desk he said
"There you are Dick, there is a draft chit for you".
When I said "Where to Chief" he replied, "43 Commando Royal Marines".  I just laughed and said, "O.K. where is it really to" As it turned out he was absolutely right and he wasn't joking.  I complained bitterly and slapped in to see the boss but he pointed out that the Royal Marines are part of the Navy and if they are short of personnel they can draw on the Navy to make up numbers.  I had to go, needless to say kicking and screaming, but the funny thing is that after I had been there a few weeks I didn't want to come back to gens again. I thoroughly enjoyed myself after I got over the initial shock. When they had enough people again I had to go back to the navy and I didn't want to do that either.It's a strange thing, human nature …
Other ships include Liverpool and Boxer (HMS Bellerophon reserve ships Portsmouth) which then moved on to HMS Vanguard, a wonderful ship, then HMS Agincourt for a commission in the Med.
Several times I went to HMS Mercury, the signal school at East Meon, for advancement courses and finished my time there as a Quartermaster. Shore bases included Commodore Naval Drafting at Lythe Hill House, Haslemere, Windmill Hill Signal Station, Gibraltar married accompanied, HMS Mauritius married accompanied, and Ricasoli Signal School, Malta for Killicks course.
I served in HMS Nurton as a killick and HMS Carron as a killick (yeoman) I did another commission in the F.E.S. in HMS Dido (the fourth of the Leander class) and served two years in HMS Apollo (the 25th of the Leander class) which we collected from the builders yard on the Clyde and took away on her first commission. I also served a short spell in HMS Dolphin MSO.
Richard's hobbies include model making, here is a quick history and his current project..
My interest in model making started about ten years ago with aircraft, tanks and armour and ships.  Since then my trophy cabinet has steadily filled up and some of my models have already featured in the news letter. It keeps me out of the pub …….(and broke!!)
HMS Compass Rose
Just before the start of WWII the Admiralty in London realised that in the event of a war they were going to be desperately short of escort vessels.  They needed something that could be built quickly and cheaply and mainly in civilian dockyards.  They had six options and the one chosen was based loosely on a whale catcher called the Southern Pride that was already in existence at Smiths dockyard.  It was a strong, sturdy little ship designed for use in the Southern Atlantic and the Antarctic.  With a lot of modifications this would do admirably for coastal escort work.  As it turned out the flower class served in every theatre of operations, including on the notorious Russian convoys in some of the worst weather in the world.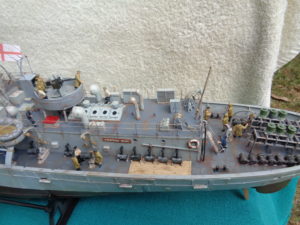 They were operated by many nations including Britain, France, Canada, America, Australia, New Zealand, Greece, India, even Germany.
The British ones were all named after flowers and the first one was HMS Gladiolus launched on the 24th. January 1940.  269 were built during the war, 42 in Canada, 4 in France, although the French ones were captured and operated by the Germans after the fall of France.
The flower class were not only used for convoy escorts, at least 54 were fitted out as minesweepers and some even served as ocean going tugs to bring damaged merchant ships into port. 25 were lent to the U.S. Navy.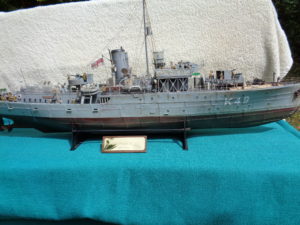 As the design evolved many variations came into being and no two were exactly alike.  Some differed slightly, and some had major differences like longer forecastles, more sheer and flair to their hulls for better sea keeping, forced draft ventilation instead of mushroom vents and many other improvements such as putting the mast behind the bridge instead in front of it. Six different variations of bridges were fitted starting with the merchant ship type on the early ones.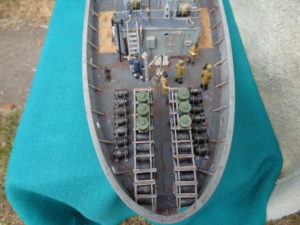 This model is of HMS Compass Rose from the book and film "The Cruel Sea" by Nicholas Montsarrat who served as an officer in corvettes (HMS Campanula) during WWII.
To contact Scotty
Graham Slaney
1 Harlequin Close, Burrum Heads Qld 4659
 Phone  0434896017.
e-mail scottyslaney@gmail.com
skype: G50raham@hotmail.com
P.S. If you no longer wish to receive newsletters from sunny Queensland, please advise and I will remove your details from the list. Until we meet again, fair winds to you all..