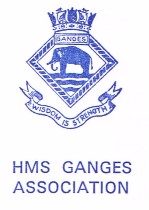 Victoria Australia
Chairman: David Lines.   Secretary: Harry Harrison 54, Tamworth Road, Kilsyth, Vic 3137
Telephone Harry 03-9728-3200 mob. +61418809712 Email:rodneyharrison831@gmail.com
MASTHEAD No. 226
Chairman David Lines. Opened the meeting and Welcomed all.
Birthdays John Hannant, Flo Livingston Happy Birthday
Apologies Jean Rees, Phyllis Cunliffe, Flo Livingston, Sally Briscoe, Mary Stephens, John and Maureen Hannant.
Sick List. Phyllis Cunliffe is in hospital for tests we wish Phyllis the very best and hope all resolves in the positive.
A service to celebrate Tom' Clarks life was held at Pakenham on May 16. There was a good attendance of Ganges members Chairman David Lines gave a good speech on behalf of the division also Mike Bennett Chairman RNA Port Phillip Bay Branch RNAwho served on HMS Kent with Tom.
Vale Tomas Bell Clark CPO Steward
04-06-1927 -09-05-2017
Ganges 1970-71
Tom was born on Tyneside the youngest in the family. In 1942 he joined the navy after three years he on again and in all served until 1972 a total of 30 years. He enjoyed his service and referred to the Queen as his boss. In the fifties he was stationed in the Solomon Islands during the Atomic tests. The ship he served on is unknown, it is known that HMS Cook was in the area during this time. Tom worked through the ranks and became Chief Petty Officer Steward. He was an instructor at Royal Arthur and also Tutor/Training leader Instructor at HMS Ganges from 1971. He was proud of the fact one of his students made it to Commander. It takes skill to impart knowledge to recruits to prepare them for service in the navy, Tom had this skill.In the 60's Tom was stationed in Chatham at HMS Pembroke which Tom was really happy as his beloved wife Hillary and daughters Miriam and Jane where enjoyed time as a family travelling around the countryside and visiting local beaches. In 1972 Tom's naval service ended.
In 1974 the family came to Australia. Tom came out to a job in the prison service as a warder at Pentridge Prison one of the toughest in the country, this job wasn't to Tom's liking so he left and became a security guard . They set up home in Pakenham where Tom's liking for naval discipline was overruled by Hillary and the girls. Tom and Hillary enjoyed an active social life and were know for their dancing and their expertise for the "jitterbug". Tom joined the Mason's and was Grand Master of his lodge. They joined the Victorian Division of HMS Ganges Association and were active in the club until Hillary's illness and then died. Without Hillary Tom was not as active socially until recently when he and his daughter Jane started attending the monthly meetings again. Tom enjoyed the meetings a Guinness and a tot and swinging the lamp on the senior's table. Tom had a fall while putting out the rubbish ended up in hospital. Tom confided in David Lines the 20 minutes before his neighbour found him was the coldest he had ever felt. Tom was moved on from hospital to an assessment centre which Tom found acceptable. He was unfortunately assessed as  not able to return home to his unit and moved on to Yarraman an aged care facility. This was a small facility and has a happy environment and caring staff who did all they could for Tom. Tom was despondent at not being able to return to his unit and was never happy despite all efforts to make him welcome.  He died 9 May and no doubt will be jitterbugging with his beloved Hillary in the great ballroom of heaven. David Lines explained two things Tom requested for when David visited was bananas and Smiths crisps so hopefully in heaven there is a bannana plantation and a Smiths crisps franchise.
Our condolences to Tom's daughter's Jane and Miriam and granddaughter Emma.
Vale Tom Clark a true gentleman
Treasurers Report The Divisional general account stands at $3,483.23. An outstanding bill for the tribute to Tom Clark in the Herald Sun. Available monies $3,361.23
 Correspondence Bank Statements. Minutes from AGM and May COM meeting, Guzz newsletter. Out sympathy card to the Clark family.
UK Association  A successful reunion was held and next years is underway. Colin Gent was elected as Chairman our congratulations to Colin and the division wish him and his committee well and good counsel. The committee was also reelected How congratulations to them for the sterling job they have done and best wishes for the future.
General Business 1) The October get together. Rooms are on hold at Club Resort Mulwala. Thompsons Bus Line has responded to our email enquiry and suggest a choice of two tours to Rutherglen or Beechworth to date the favourite appears to be Beechworth. Both tours incorporate visits to wineries with Beechworth including a brewery on the itinerary. The line have a number of vehicles catering for the size of group. So to help us sort out details will all members interested inform us if they wish to attend once again the dates are 16th-20th. October. Contact details are in the letterhead. A program for activities are being formulated.
AOB  1) Mike Bennett  Chairman RNA:-A successful lunch on Sunday included a successful service to dedicate a plaque to honour and remember Jimmy Johnston from his family was held at the Remembrance Wall. It was most appreciated by his daughter Tia and family.
June 11th. birthday lunch will have a theme of a 50/60's dance party. Those who wish may come in attire appropriate to the period. Entertainment will be provided by De JaVue and lunch catered for. For catering those wishing to attend please contact Mike.
Next Meeting Seven Bells (11:30) Wednesday July 26th. 2017
Regards – Harry Harrison
Thought for the month: – Good friends are like jewels of life. Difficult to find and impossible to replace
With the news reporting terrorist attacks in Manchester and London our hearts go out to all those who may be affected either personally or with family or friends involved, and we wish you the very best. To those victims killed may they find safe and peaceful harbours.To those injured may they be healed. To those traumatised by the events may they find peace. To all the division stands in solidarity in condemning such barbaric actions perpetrated by truly evil people. Let us all be steadfast in our condemning such actions. May we all find peace in these troubled times. Secretary Harry Harrison