Can you help identify this Wren being cared for aboard the Royal Yacht Britannia 25 years ago this August?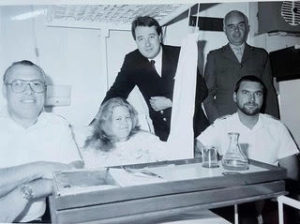 Bosses of Britannia – now a floating museum in Leith – would like to treat her to a family day out, champagne lunch and behind-the-scenes tour of the famous ship after learning of the nasty accident she suffered and how those aboard the yacht, from Her Majesty down to musicians and sickbay staff, cared for her.
Back in 1992, Britannia was on her annual summer cruise around the Western Isles accompanied by frigate HMS Brilliant when she picked up a call for help from the Type 22.
A female sailor slipped on deck and a hatch had fallen on her finger tips. Dealing with the extensive damage was beyond what Brilliant could offer.
The patient was transferred to Britannia as its sickbay team readied the operating theatre, where an anaesthetic block was applied to her upper arm, freezing her left arm and fingers.
After an hour and a half Surg Lt Commander Robin Mc Neil-Love RN and sickbay manager Eric Birbeck removed the damaged tissue and saved the terminal ends her fingers.
The hand was stitched and cleaned and placed into a ball to allow the fist to be bandaged. She was then changed and placed in the sickbay bunk where she was cared for during a three-day passage to Aberdeen, where she was landed for further treatment ashore.
This was the first time a female patient had been admitted to the sickbay – this was the early days of women going to sea with the Navy.
The Queen was informed and asked her lady in waiting to visit the patient, even presenting a small woven basket of toiletries and informing her that a bath was at her disposal in the Royal household apartments.
The royal intervention didn't end there; the Queen directed the RM Band to entertain her one morning.
"Never was a wren treated so royally," Eric – on the left of the first photograph – recalls.
Before sailing he and his shipmates had been sent the latest rules and regulations for wrens at sea and providing them with medical care – something they'd dismissed as there were none on board.
"The patient arrived in Number 8 working dress, trousers and shirt but such was the need to deal with her quickly that we left her clothes on," Eric remembers.
"When we had completed surgery she had her Left arm in a ball bandage and her right hand at a drip with antibiotics connected to an I/V bottle.
"We had to transfer her to a bed and make her comfortable but she was still dressed. We looked at each other and before we could think she said: 'Crying out loud. You guys are married. Have you never undressed a lady?'"
Being gents, they asked one of the Queen's female household to act as chaperone…
Sadly Eric cannot remember the young sailor's name – and there's nothing in the documents in Leith, or in contemporary editions of Navy News, to give a clue to her identity.
Which is why the Britannia team are appealing to our readers and the wider RN community to help out.
If you are able to identify the wren – or indeed are the wren – in the pictures, and would like to be royally hosted on the former royal yacht, contact Jennifer Campbell on JenniferC@tryb.co.uk or call 0131 555 8800.